Cryptocurrency prices have plummeted in the past few months as concerns about inflation, Federal Reserve, and stablecoins rise. As a result, the overall market cap of all digital coins has crashed from an all-time high of $3 trillion in 2021 to less than $1.5 trillion. This article will focus on the best crypto to buy now during this sell-off.
Will crypto recover?
A common question among investors is whether crypto will go back up. However, while the current situation looks dire, there are signs that they will bounce back in the long term. First, the current sell-off in digital coins is not an isolated affair. Indeed, other financial assets like bonds and shares have sold off. Notably, the tech-heavy Nasdaq 100 index has declined by more than 26% from its all-time high.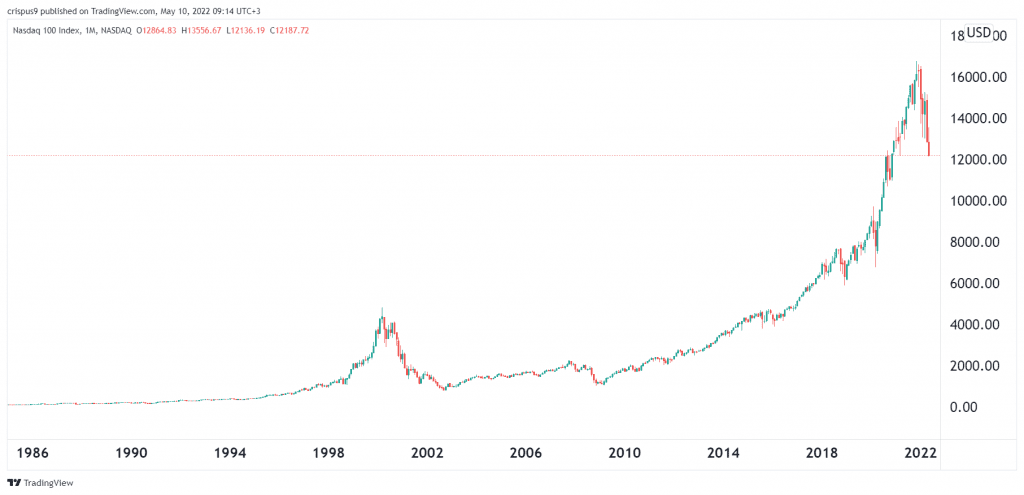 Therefore, a close correlation between tech stocks and the Nasdaq 100 has developed. As such, there is a likelihood that the two assets will bounce back in unison later this year. As shown below, the Nasdaq 100 index has always bounced back in all the previous drawdowns. For example, it recovered after the dot com bubble, the Covid crash in 2020, and the housing crash.
Further, Bitcoin and other crypto prices have recovered from the previous crashes. For example, Bitcoin declined by 55% between May and July last year. It bounced back and rose to an all-time high of almost $70,000 by November. There have been other deep declines in Bitcoin before. For example, it declined by about 68% in March 2020 and returned to an all-time high.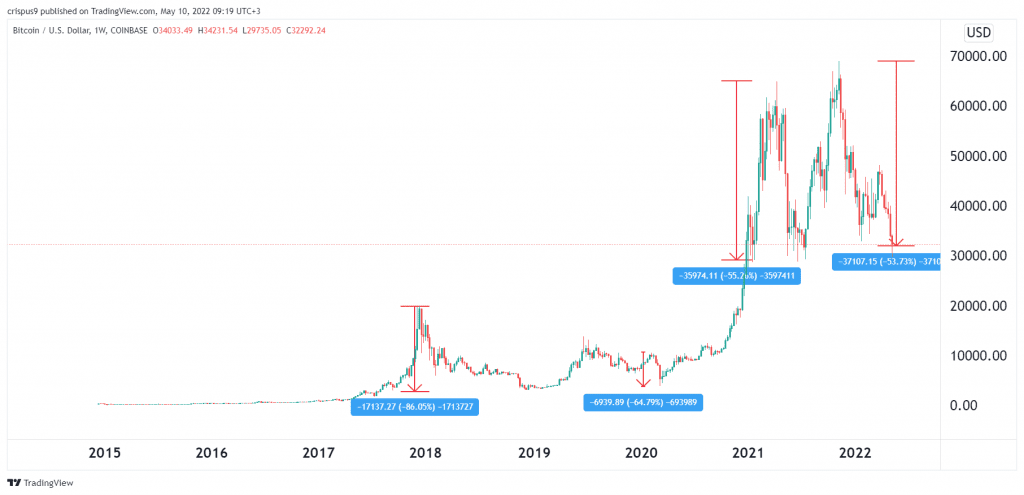 Best crypto to buy now
Therefore, since there is a likelihood that crypto prices will recover, here are the top cryptocurrencies to buy.
Ethereum
Ethereum is one of the best crypto to buy now that its price has crashed hard in the past few months. It has plummeted by more than 50% from the highest level in November 2021. As a result, its market value has dropped to about $292 billion, meaning that long-term investors have lost more than $250 billion of value.
Ethereum is a good crypto to buy for several reasons. First, Ethereum merge has been scheduled for the third quarter of this year. This is a process where the current Ethereum will combine with the Beacon Chain. As a result, it will become faster and more cost-effective. Therefore, analysts expect that this transition will lead to more demand for the ecosystem.
Therefore, I believe that ETH price will do well when the rebound happens in the coming months. If this happens, the key level to watch will be at around $3,600.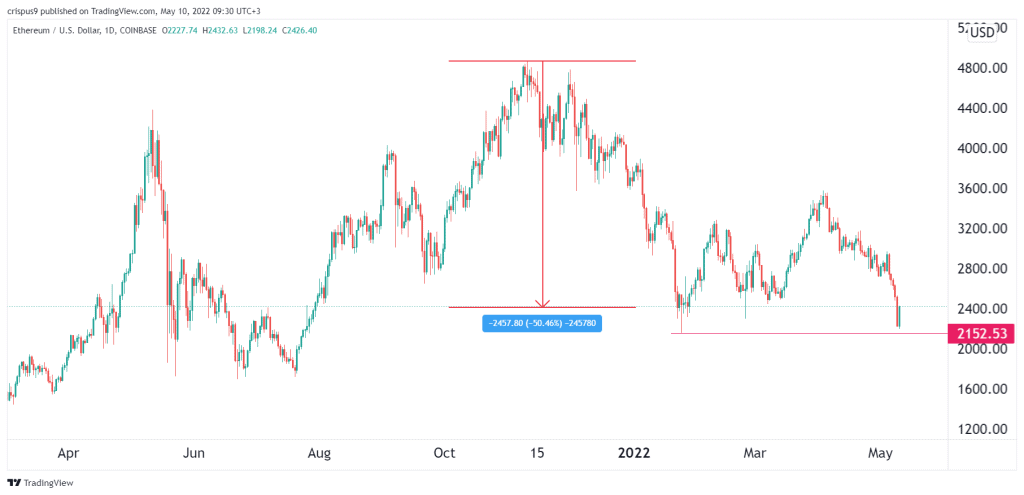 Cronos
Cronos is another top crypto to buy the dip in. Formerly known as Crypto.com Coin, Cronos is a leading blockchain platform for building decentralized applications. It has been used to build all types of blockchains such as DeFi, Non-Fungible Tokens (NFT), and metaverse platforms.
According to DeFi Llama, the network's TVL has dropped to about $2.2 while the CRO price has dropped to an all-time low. Still, there is a likelihood that the Cronos will bounce back in the coming months because of the popularity of its DeFi apps like Tectonic and VVS Finance.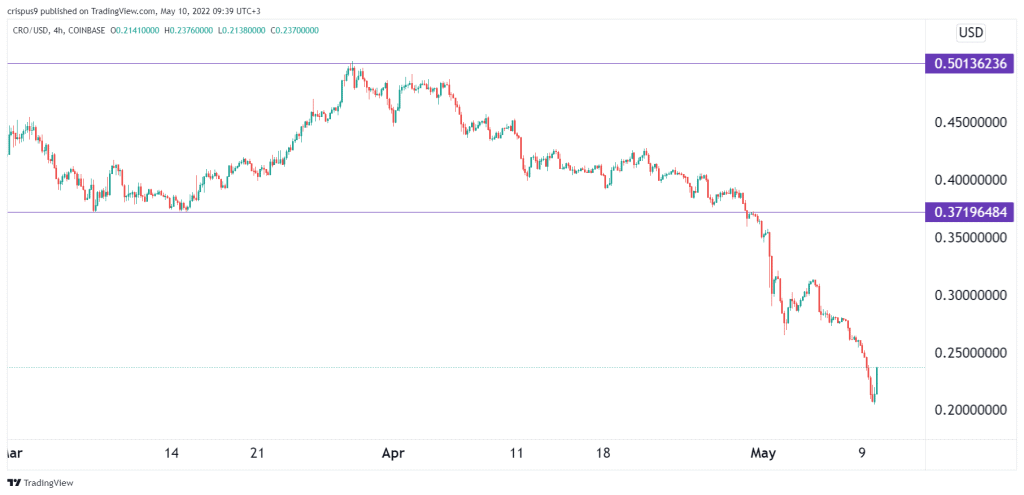 Terra
Terra is one of the best-known cryptocurrencies around. It is a South Korean project that is mainly in the finance industry. For example, millions of people use its Chai application in the country.
The Terra LUNA price has crashed in the past few days as challenges emerged in the Terra USD stablecoin. The coin's price has declined to $0.80, which is significantly below its peg at $1. This is a major issue that has made the total market cap of LUNA drop below that of Terra USD. It has also led to a strong sell-off in Terra DeFi apps like Anchor Protocol, Lido, and Astroport.
Still, I believe that Terra will bounce back, and the current decline has been overdone. For one, we have seen similar situations happen before. The most notable one was when the peg on Neutrino failed. The chart below shows that the LUNA price has gotten extremely oversold.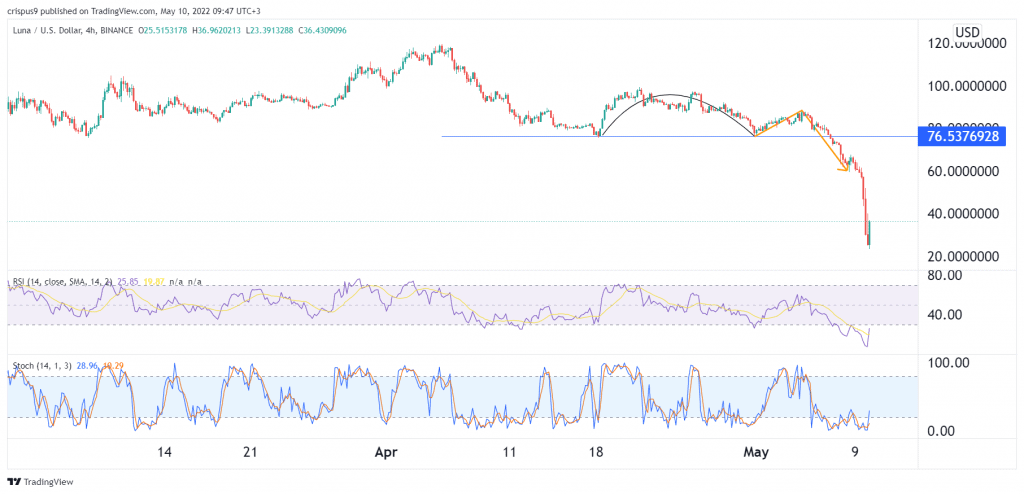 Other crypto to buy during this sell-off are Near Protocol, Shiba Inu, Cosmos Hub, and Chainlink.