Bens Creek share price surged strongly from its July lows and is up 64% from that level. The positive price action in the past few months can be attributed to the rise in coal prices and the increase in the company's growing production numbers. During Wednesday's trading session, the coal miner's shares are down by 1.64% and stood at 16.48p at press time.
Due to a major correction in the UK and US stock market, LON: BEN shares have plunged 11.7% from their September highs. The correction comes at a time when investors expect the rates to remain high for quite a long time. Side by side, a decrease in the demand for metallurgical coal is likely to happen due to the deteriorating US economy.
Bens Creek To See Record Coal Production Numbers Next Month
The CEO of Bens Creek, Adam Wilson, expects to see record-high production numbers after one of the faulty mining machines has resumed operations. The CEO also mentioned the success of Bens Creek in reducing its production cost. This, coupled with the rising coal price, means better margins for the British mining company in the coming months.
In the last month, Bens Creek was able to produce 42,000 tons of coal and shipped 44000 tons through trains. The London-based miner also received approval for the extension of the surface mining area, which further contributes to a bullish outlook for Bens Creek share price.
Bens Creek Share Price Prediction
The latest analysis of LON: BEN reveals the price is struggling to break above the 200MA and is currently trading 6.75% below it. The 200MA also lies in the 18p-21p supply zone. Back in June, the price was rejected from this zone and suffered a 45% correction right after.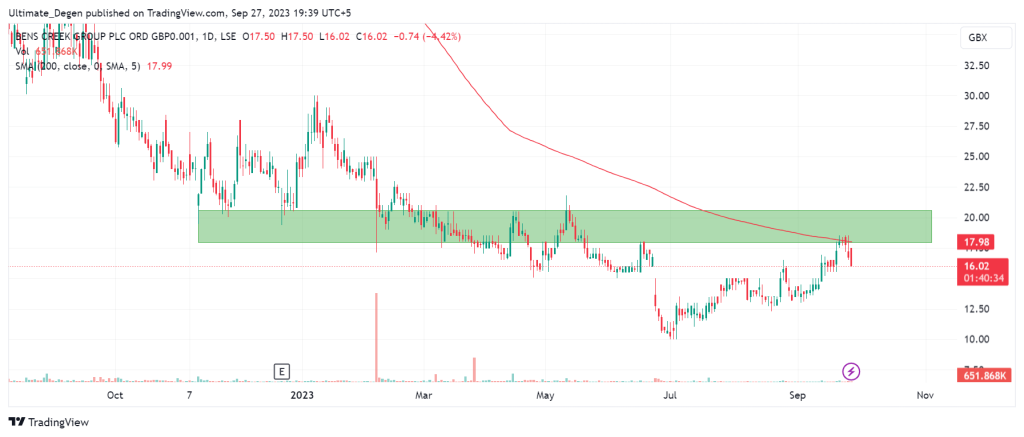 Keeping the current market conditions in mind, it is highly unlikely for the Bens Creek share price to break above the 18p-21p supply zone any time soon. The Bens Creek share price prediction will turn bearish once the price breaks below the August lows of 12.2p.