It seems, for now at least, the Barclays share price continues to encounter an impenetrable wall of resistance between 185p and 190p. Despite repeated attempts to break through the barrier over the last 6 months, Barclays Plc (LON: BARC) cannot muster enough momentum to complete the task. And now, following the latest failed attempt, Barclays is vulnerable to a washout.
Over the last seven weeks, FTSE-listed Barclays had, up until Friday, performed particularly well. The share price had weathered the broader market in July and improved by 20% in the three weeks following the 19th. However, the Barclays share price ran into trouble, reversing from 187.26p back to the safety of the 50-day moving average at 177p. Unperturbed, a fresh attempt at 190p ensued in late August, although again selling capped the rally around 187p, which brings us into this week.
BARC Technical Analysis
Barclays started the week brightly enough. On Monday, the share price showed some early strength, trading as high as 186.82p, finishing the day marginally higher at 186.50. However, on Tuesday, the share price started to roll over. Furthermore, the selling accelerated on Wednesday, and Barclays registered a 1.6% loss, its worst one-day performance since July.
Early signs are that the weakness has spilt over into today, and this morning BARC is lower by 2.24% to 178.30p, and below the 50 DMA at 179.80p. Should BARC finish the day below the indicator, further losses are likely. In this instance, additional support is seen at the 100-day gauge at 176.28p. Whilst a deeper correction could target the 200 DMA, way down at 166.83p.
Until Barclays manages to hurdle the overhanging resistance, the share price is likely to trade negatively. And therefore, the bearish view remains intact below 190p. However, successful uncapping of this level would indicate the share price has finally broken out, cancelling the negative view.
Barclays Share Price Chart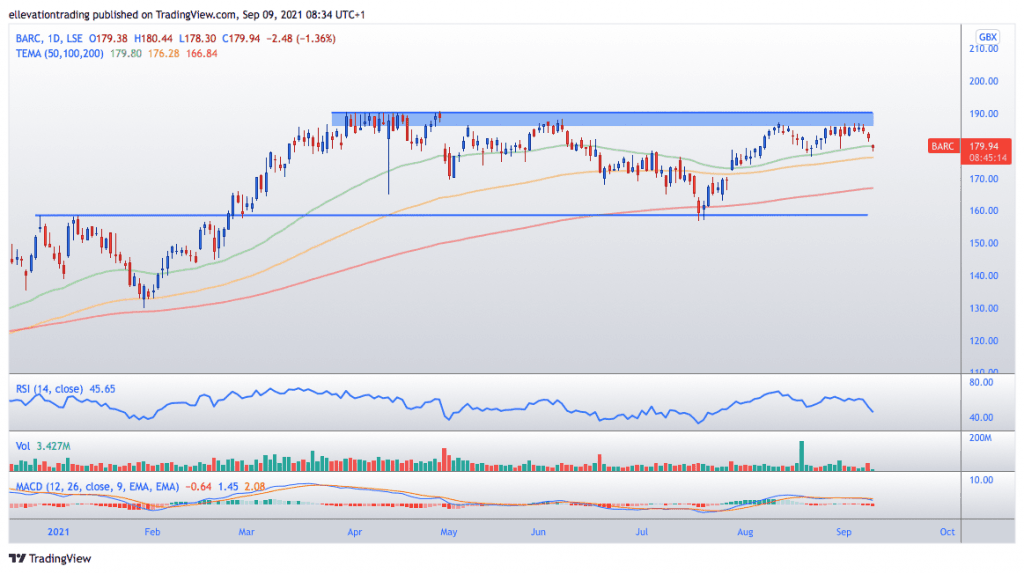 For more market insights, follow Elliott on Twitter.