The BAE share price is pushing hard against the weekly resistance level at 743.0 as it evolves into a potentially bullish pattern that could put smiles on investors' faces. As a result, the BAE share price has opened the day with a 0.47% uptick. 
The stock is primed for a higher close this week as the company continues to consolidate the various new businesses it is pulling in. For example, two weeks ago, BAE Systems secured a contract with the Qatari government to support the Qatar Emiri Naval Force and its warships. Other deals the company has secured include the following:
Installation of AN/AAR-57 Common Missile Warning System on Apache helicopters for an unnamed foreign customer at the cost of $22m.
Maintenance for the Lhd USS Essex in a $125.5 million contract awarded by the US Navy
Development of a mission data framework for the Enterprise Management and Control (EM&C) system for the Space Systems Command
The company is also coming off the acquisition of software developer Bohemia Interactive Simulations, which cost $200million, paid for in cash from the company's cash reserves. This acquisition boosted the BAE share price by 6% on its announcement.
BAE Share Price Outlook
The BAE share price activity on the daily chart has evolved into a bullish pennant, with the expectations of an upside break that will send the BAE share price well into record territory. The 871.0 price mark (100% Fibonacci extension from the price swing of 23 February to 9 March to 17 March) should be the completion point of the measured move following the price breakout from the pattern.
This breakout must take out the resistance barriers that presently sit at 743.0 (7 March and 5 April highs) and 760.8 (28 March high) to become a reality. On the flip side, a rejection of bullish action at the 743.0 resistance gives rise to a pullback that needs to break down the pennant's lower border to become a reality.
A breakdown of this border invalidates the pattern and initially opens the door for a drop towards 696.8 (16 March low). Subsequent targets to the downside include 672.0 and 638.8 (9 July 2018 low and 5 February 2022 low). Additional downside targets are 611.6 and 585.6 (22 October 2021 and 22 February 2022 lows), but these will only come into the picture if the correction is steep.
BAE Systems: Daily Chart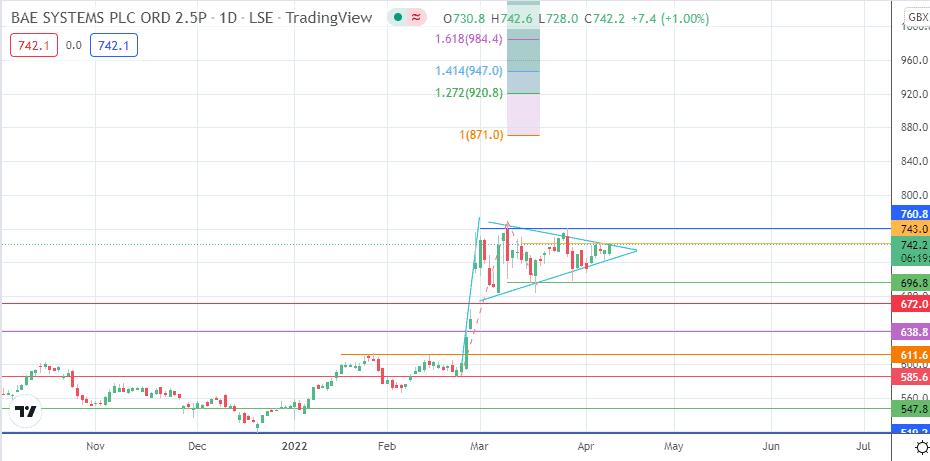 Follow Eno on Twitter.