The AVAX price has gained almost 25% from Friday's low, which could put Avalanche on track for an extension into unchartered territory.
Avalanche (AVAX) is firmer on Tuesday at $121.70 (+0.90%), up around $17 since Friday but showing a 7-day loss of -12.27%. As a result, the AVAX token has dropped out of the top ten and is currently the 11th most-valuable cryptocurrency behind Dogecoin.
Avalanche has emerged as an investor favourite over the last few months. The layer-1 blockchain is gaining traction amongst Defi projects and currently has a Total Value Locked (TVL) of $13.3 billion, placing it Just behind Solana as the 4th most utilised Defi blockchain.
The growing adoption has been a significant tailwind for the AVAX token, which has gained +1230% since July despite the recent volatility. Furthermore, the bounce from the weekend lows suggests buyers are keen to gain AVAX exposure on the dips. Subsequently, the token is close to breaking above trend resistance, which could encourage another leg higher.
Avalanche Price Forecast
The daily chart shows the AVAX price dropped back into a rising trend channel on the 24th of November. And this morning, it attempts to clear the former support at $120, which could decide the token's immediate prospects.
Successful clearance of trend resistance opens the door to an extension towards the all-time high of $151.75. However, failure could result in a return to Friday's low, just below $100.
Until today's candle is completed, it's hard to say which scenario will play out. Of course, much will depend on whether risk-assets continue the recovery in today's sessions. Overall, I am cautiously optimistic, although I prefer to wait for confirmation before predicting imminent new highs.
AVAX Price Chart (daily)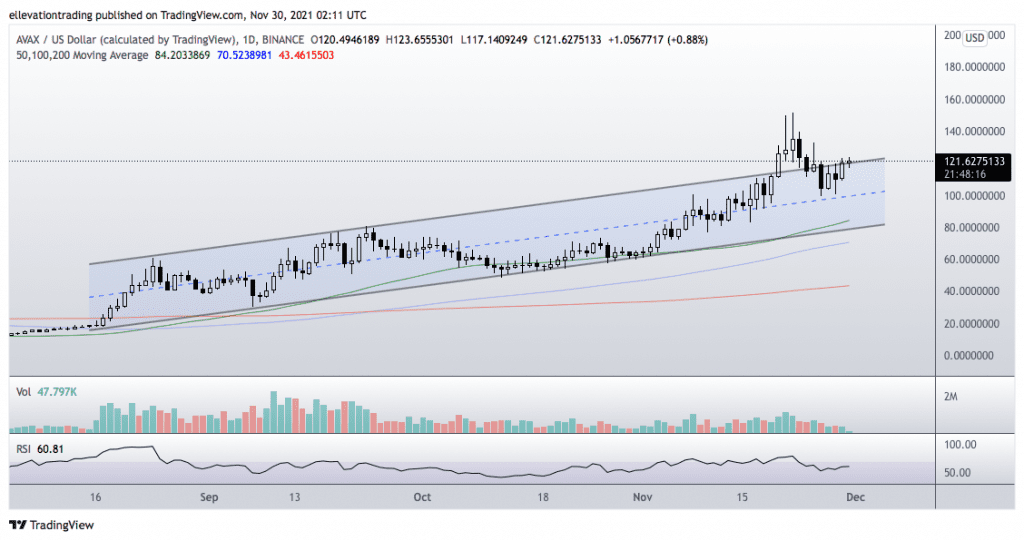 For more market insights, follow Elliott on Twitter.