A look at the daily chart of the Audius token shows that the price continues to trade within a tight range, despite a slight uptick on the day. The Audius price token is 1.56% higher on the day after the price bounced off the range floor at 2.55855.
The price picture resembles an emerging bullish flag, following the consolidation that is playing out after the recent ascent from the 200-day moving average on 21 October. This pattern could determine the direction of Audius price predictions going forward.
Audius is one of the first decentralized music crypto platforms. The brand will feature in the Audius X Metaplex Breakpoint Afterparty and is offering tickets for sale at the event scheduled to take place in Lisbon, Portugal. Portugal has a 90% COVID vaccination rate and is fully open for events.
Audius Price Prediction
The price action continues to trade within the consolidation area of the evolving bullish flag, formed by the 1.89735 resistance and the 2.55855 support. Price needs to break one of the two borders to define a new direction for the asset. The bull flag makes a strong case for an upside break, targeting 3.16680 initially before the resistance zone at 3.45420/3.73200 comes into the picture. 
On the flip side, a decline below the 2.55855 floor targets 2.17745, with 1.73615 and 1.41275 serving as additional targets to the south if the price extends the decline further. The 1.41275 support level only comes into the mix if the bears take out the support formed by the 200-day moving average at the 1.73615 price mark.
AUDIO/USDT: Daily Chart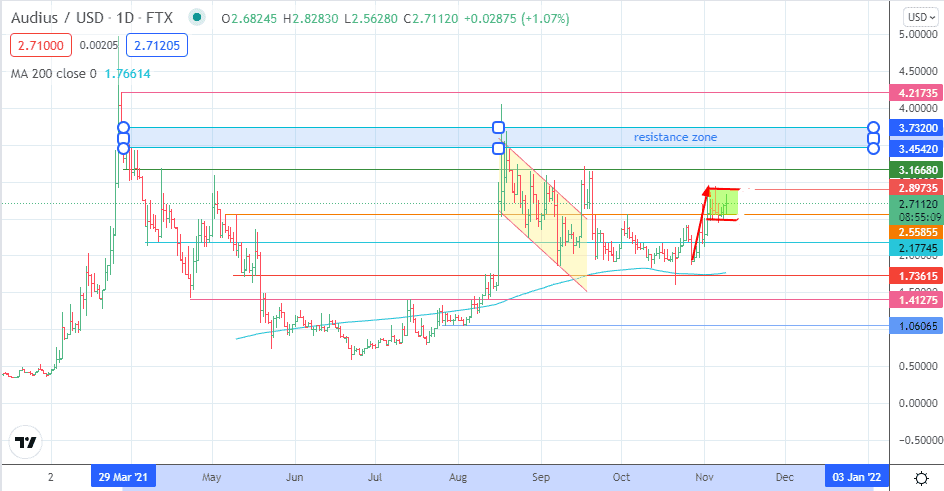 Follow Eno on Twitter.