If you're looking for Audius price prediction from short-term and long-term perspectives, you're at the right place. Audius crypto price is battling a key support level, and the coin has bounced off the $0.65 region multiple times. If the current bounce continues, the Audio coin price might target to hit $3 in 2022. The increasing adoption may also send the price to $13 by 2025.
Project Founders
Roneil Rumberg ad Forrest Browning founded Audius in 2018. Both founders were huge electronic music fans. Before moving on to Audius's price prediction, let's look at the founders' vision. Audius founders had been looking for a decentralized version of Soundcloud since 2014. After the success of Ethereum and its smart contracts, Ronell and Forrest started working on Audius in 2018.
In 2018 Audius raised $5.5 million via funding from several VCs. Audius platform was completed in 2019, and the Audius token started to trade in October 2020. Currently, Audius's price is trading at $0.72.
What is Audius Crypto?
If you're familiar with the music industry, you know how most of the artists are exploited by the middlemen. These middlemen include agents, promoters, and record labels. Audius removes the middlemen and lets artists publish their music while also letting them interact with their fans. The interface of the platform is also pretty straightforward. The built-in Hedgehog wallet allows even the people who're not crypto savvy to use the platform seamlessly.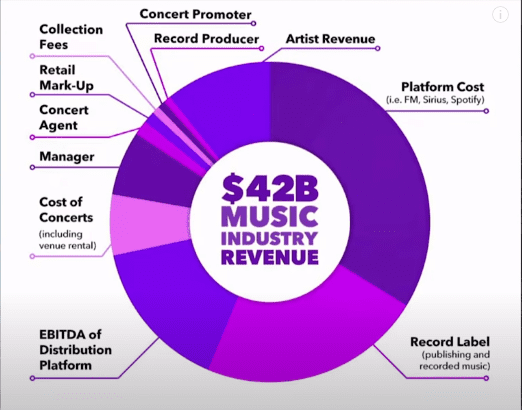 Whenever a new account is created on a hedgehog, the seed phrase for the wallet is sent via email. Users are recommended to not keep too much crypto in the browser wallet since it's vulnerable being a hot wallet.
Latest Audius News and Roadmap
According to official Audius News, there are currently 325 million Audio tokens locked on the platform. Audius crypto is currently in process of migrating to Solana. The process started in early 2021. It boasts 6.1 million unique visitors per month. The artists who publish their music on the platform receive audio tokens and so do the listeners. In this way Audius lets the artists earn directly from their music without any intermediaries. This uniqueness gives us an even more bullish Audius price prediction which is listed below.
Many top artists are already on the platform and Audius emerged as a major streaming platform in 2021. It also partnered with Tik Tok in August 2021, due to this massive partnership Audius price went to $4 in the same month. Audius currently resides on Ethereum as an ERC-20 token.
Audius Price Prediction 2022
Audius token went to its all-time high of $4.95 in March 2021. The price level seemed to be unsustainable as the coin was dumped severely afterwards. At the time of writing, Audius is trading at $0.72, and it is still 85% down from its March 2021 all-time high. Due to the ongoing tensions in Europe, crypto markets are in a significant downtrend, and Audio token is no different. All cryptocurrencies and traditional markets crashed in the last week of February 2022 due to the European situation.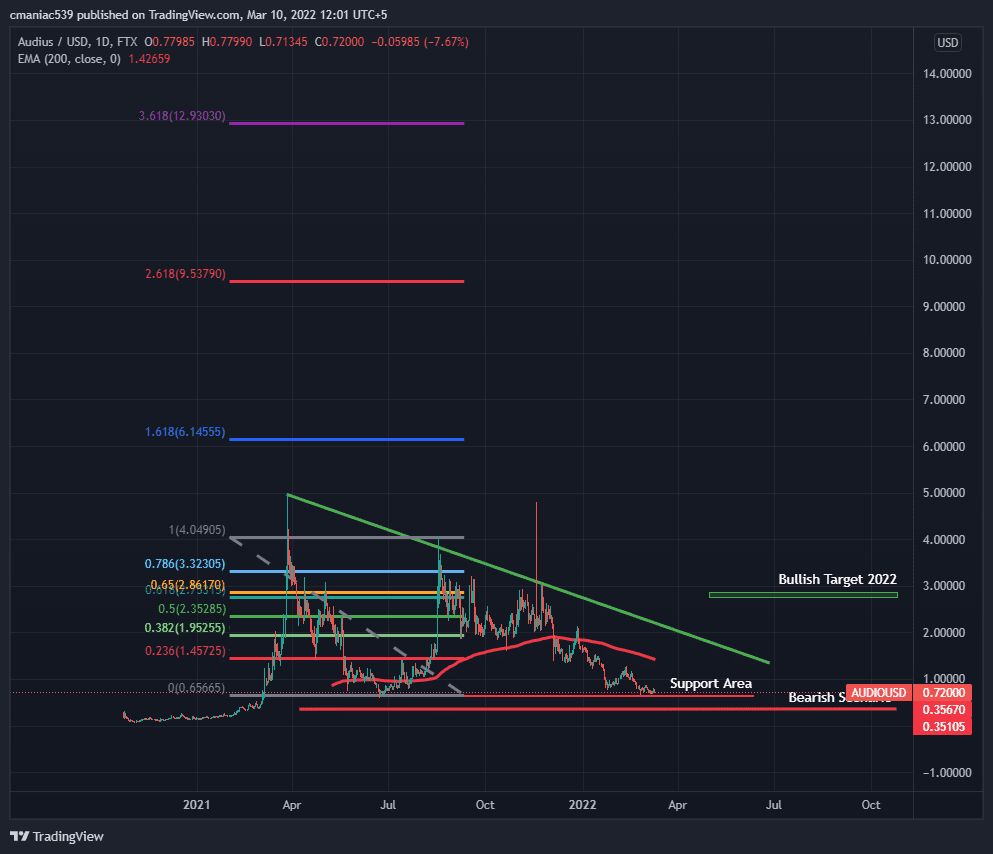 Technical analysis of Audius price chart shows that there is strong support at the $0.65 level. The coin has bounced off this support multiple times, and it is still in hot waters. Any breach of this support could send the price in a long bearish accumulation. However, bulls might target higher price levels if the current bounce validates. If Audius makes higher highs and reclaims 200 EMA, then $2.85 could be a valid Audius price prediction for 2022.
Audius Price Prediction 2025
Crypto is one of the most volatile asset classes, and a lot can happen in the crypto industry in 3 years. Nevertheless, Audius is more than just crypto as it is a streaming platform that fills a void in the mainstream music industry. If Auidus keeps onboarding new users at the same rate as now, billions of users could become its customers. Such a huge demand might push the Audio prices to much higher levels.
In the case of such a mass adoption, $6.14 appears a valid Audius price prediction 2025. This prediction depends on many things as Audius will also have to compete with other players in the industry. This price target is also aligned with the 1.618 Fib level of current retracement from $4. For this to happen, crypto markets need to see another bull run by 2025. Similarly, any recession in the global economy or traditional markets could also make this target unachievable.
Audius Price Prediction 2030
Any asset's price prediction for 2030 is anybody's guess. Nevertheless, we can try to take a shot at Audius price by comparing it to one of its competitors, Spotify. Currently, Spotify is sitting at a market cap of $25.6 Billion. Also, note that Spotify stock is equity and, hence, slightly different from Audio Token. Nevertheless, for comparison, let's imagine Audius at the same market cap.
The current fully diluted market cap of Audius is $773 million. A $25.6 billion market cap for Audio coin would mean a gain of 3300%. This gives us Audius price prediction 2030 of $23.9. Nevertheless, this price prediction is nothing but dubious price speculation.
Is Audius Coin a Good Investment?
If you still feel like asking, 'is Audius coin a good investment?', you must first learn to manage your risk. If you're investing in cryptocurrencies, you must only invest what you're willing to lose. Audius could be a good long-term investment if you're bullish on decentralized streaming and consider it the future. However, buying Audius right now for a short-term profit might not be a good idea. Audius price prediction given above could also help you in deciding.
Another factor to consider is that Audius would also have to face fierce competition from other streaming giants. Industry leaders like Spotify, Apple Music, and Amazon Music have a lot of capital to burn. They could also add blockchain features to their existing platforms to make things difficult for Audius. Therefore, just like any investment, Audius is also not going to be risk-free for you. Still, the R/R ratio for Audius seems a lot better as compared to several other crypto projects.