The AUDIO price faces a stiff test at critical support, and failure could trigger a spiteful sell-off, back to the July lows. Music streaming platform Audius has performed poorly for the last two months. In August, the platform's native AUDIO token had a stellar run, surging 170% in two days to a four-month high of $4.168. However, since then, the token has lost 55% of its value.
This morning, AUDIO is trading at $2.022, around 15% higher than Wednesday's low and 25% below this months high. The platform's market cap has dropped to about $832m, forcing it outside the top-100 list. Audius is currently ranked the 110th-largest crypto, behind Celer Network (CEL). Over the summer, Audius piqued investor interest when it revealed Katy Perry and Nas participated in a $5 million funding round. Although similar to many altcoins, the bullish sentiment has waned recently. As a result, the AUDIO price is dangerously close to losing significant support. In that event, Audius will likely give back most, if not all, of the gains it made over the summer.
Audius Price Forecast
The daily chart shows AUDIO's price action has resulted in a descending triangle forming. Currently, the token is grinding along the lower edge of the pattern at $1.9000. Encouragingly, the 100-day moving at $1.933 and the 200 at $1.795 reinforce the horizontal support. However, descending triangle patterns are considered bearish and often force the price to break down.
If the AUDIO price slips below the 200-DMA, bearish momentum should gather pace. In this event, a return to the July low, at $0.578, around 70% below the last price, is possible. However, for now, the price is holding support. As long as that remains the case, the bearish view may be averted. Furthermore, if Audius breaks the top edge of the triangle at $2.4000 the outlook flips to optimistic.
AUDIO Price Chart (Daily)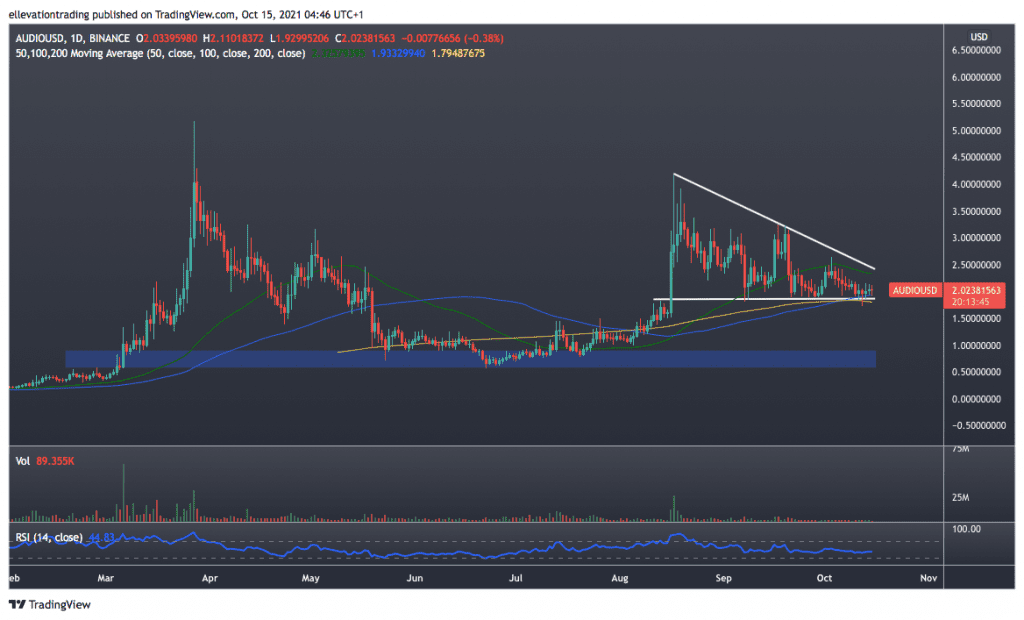 For more market insights, follow Elliott on Twitter.