The AUDIO price is 60% cheaper than last month, so is now the right time to buy Audius, or is a more significant discount on the horizon?
Like most altcoin's, Audius (AUDIO) is trending lower in a bear market. The recent weakness has erased all of the gains the music-streaming platform made in August and wiped around $600 million from the project's market cap. As a result, the AUDIO token is no longer a top-100 cryptocurrency and currently ranks #101, just above Horizen.
The main reason Audius has struggled is due to the overall weakness of the cryptocurrency market. However, I also suspect the considerable gains in Metaverse and gaming tokens last month sucked liquidity from the AUDIO token. Furthermore, concerns that the fed will accelerate the taper has forced investors to question the crypto market's current valuation, encouraging profit-taking. Subsequently, AUDIO is in a state of flux and, in my opinion, could go either way from here.
Audius Price Forecast
The daily chart shows the AUDIO price is sandwiched between resistance at $1.800 (200-Day Moving Average and series of lows) and support at $1.420 (December 4th low and August high).
The danger for longs is if Audius breaks down below the horizontal support at $1.420. In that event, the price could extend lower towards the July lows, around $0.580. While that opinion is exceptionally pessimistic, I believe it's possible considering the uncertainty surrounding markets.
However, the outlook improves dramatically if Audius clears the overhead resistance. On that basis, a daily close above $1.800 invalidates the bearish view.
AUDIO Price Chart (Daily)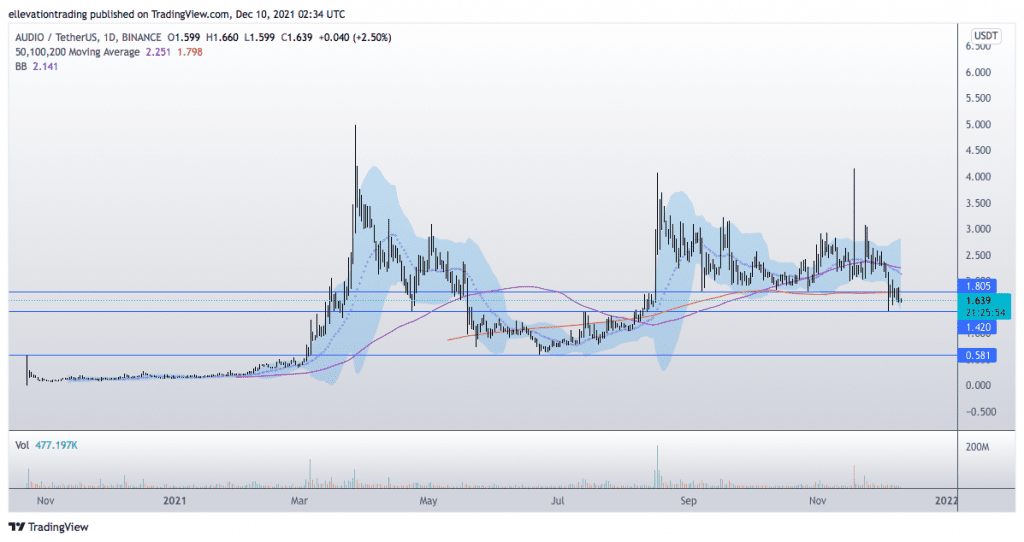 For more market insights, follow Elliott on Twitter.