The AUD to GBP rate continues on its upside trajectory, registering the 8th day of gains in nine as the commodity-linked currency continued its charge against the British Pound. As gold prices continue to surge towards the $1950 mark, one of the big winners of the Russia-Ukraine conflict has been the gold-linked Aussie Dollar. 
AUD to GBP news today
Taking the cue from robust GDP growth of 3.4%, strong retail sales data, and a sharp rise in housing prices, the Aussie Dollar has found itself trending strongly to the upside against its fellow risk-associated currency, the British Pound. In January, Head of Rabobank's FX Strategy desk Jane Foley made a bearish call on the Pound, giving Brexit, higher taxes, and decades-high inflation as downside risks to the British economy. She saw the Pound "struggling by the end of the quarter" as the impending UK tx hike in April exerted a squeeze on real incomes.
These negative projections on the Pound reflect the current view of institutional analysts on the currency. The same view was maintained by Valentin Marinov, Head of G-10 Currency Research at Credit Agricole SA, who said he had a cautious outlook on the "overvalued Pound." As a result, the Pound has endured several days of selling against the AUD, which is being propped up by rising commodity prices amid the Russia-Ukraine conflict. The AUD to GBP rate is up 0.98% on Friday as of writing.
AUD to GBP Outlook
The 0.5552 resistance barrier appears to be the next target in line for the bulls, following the break of the 0.5502 resistance. If the advance pushes beyond this barrier, 0.5623 and 0.5683 will be the new targets to the north. On the flip side, 0.5402 will be the initial target if a correction takes the price action below 0.5502. 0.5328 is next in line if the corrective decline extends further south. 
AUD/GBP: Daily Chart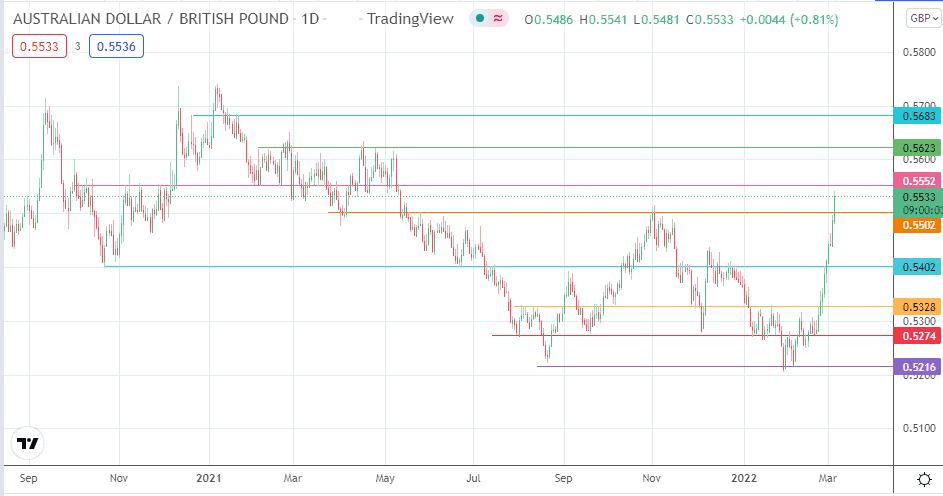 Follow Eno on Twitter.