The AUD/NZD price has been in the spotlight this week as investors focus on key events. The AUD to NZD exchange rate is reacting to the latest RBA interest rate decision, Australia's retail sales, and New Zealand's jobs numbers. It rose to a high of 1.1110, which was about 0.92% above the lowest level this month.
New Zealand jobs data and RBA decision
The AUD/NZD price declined sharply on Tuesday after the RBA decided to hike interest rates by 0.50%. That was its fourth straight rate hike this year, meaning that the bank has been extremely hawkish. The bank also hinted that it will continue hiking rates in a bid to lower the rising inflation. It expects that the headline inflation will peak at about 7.5% this year.
The AUD/NZD and AUD/USD prices declined since the decision was in line with what analysts were expecting. At the same time, the bank decided to lower its forward guidance for Australia's GDP data for 2022. The pair also reacted to the latest Australia retail sales numbers. According to the statistics agency, retail sales dropped from 0.9% in June to 0.2% in July. It rose from 1.0% in Q1 to 1.4% in Q2.
The other important catalyst for the AUD to NZD rate was the latest New Zealand jobs data. The numbers revealed that the country's labor market was still extremely tight in the second quarter. The unemployment rate rose slightly from 3.2% to 3.3%.
In this period, the participation rate dropped from 70.90% to 70.80%. At the same time, the labor cost index rose by 1.3% and 3.4% on a quarter-on-quarter and year-on-year basis, respectively. Therefore, the RBNZ will likely continue hiking interest rates in a bid to lower inflation.
AUD/NZD forecast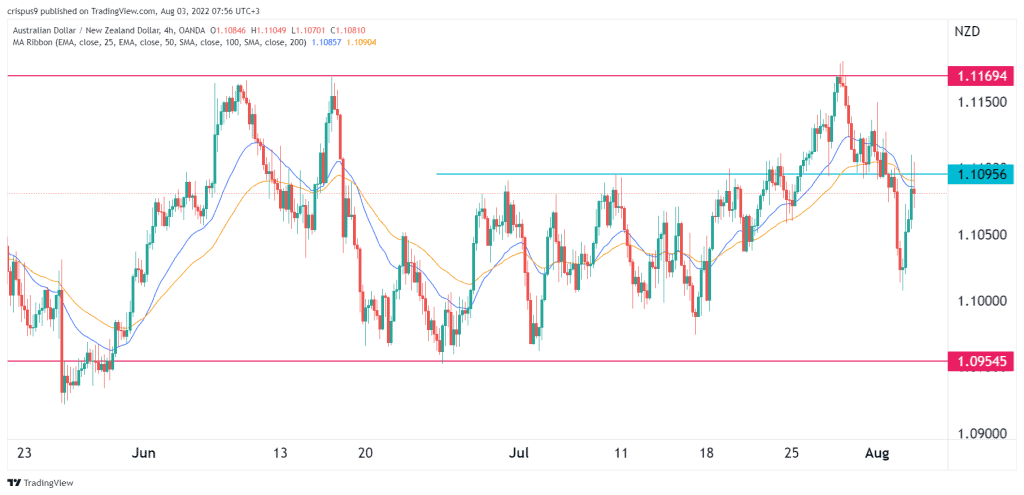 The four-hour chart shows that the AUD to NZD price has been relatively volatile in the past few days. The pair dropped by more than 1.53% after the RBA decision. Now, it is hovering along the 25-day and 50-day moving averages. It has moved slightly below the important resistance point at 1.1095, which was the highest point on July 8th.
Therefore, the pair will likely resume the bearish trend now that it has formed what looks like a head and shoulders pattern. If this happens, the next key support to watch will be at 1.0500. A move above the resistance at 1.1110 will mean that there are still more buyers in the market.