The Arweave price prediction shows a token continuing to underperform when compared with its peers. On 1 October, The Graph Foundation announced the integration of Arweave, allowing indexed data from its open APIs to organize Arweave's stored data. In that time, The Graph has surged 50% and has maintained the gains. Arweave nearly doubled its price in a week, bit has lost all the gains made as it has continued to drop. The NEAR protocol, another project integrated with The Graph Foundation a few days ago, registered a 28% gain and has held on to most if it since. Arweave's investors missed out on the latest rally in cryptos as investment capital shifted elsewhere.
Arweave is hoping that the KYVE network, built on its blockchain, could spur a renewed round of interest in the AR/USDT pair. KYVE seeks to standardize and validate blocks of data and upload them
to the Arweave chain. KYVE has recently closed a new round of investment. Until investor interest returns to Arweave, its share price is expected to struggle in the short term.
Arweave Price Prediction
The expanding triangle contained within the descending channel could point to further downside on the AR/USDT pair. A decline follows if the bulls fail to defend the 49.1732 support, and this scenario opens the door towards the 39.0602 support. 34.1146 and 24.2126 are the additional targets to the south.
On the flip side, an extension of the bounce above the expanding triangle's upper border (along with the channel's trendline) opens the door towards the 63.3476 resistance. Above this level, previous highs at 70.3781 (31 August/8 October highs) and the 74.6267 price top seen on 10 September line up as potential barriers to the north.
AR/USDT: Daily Chart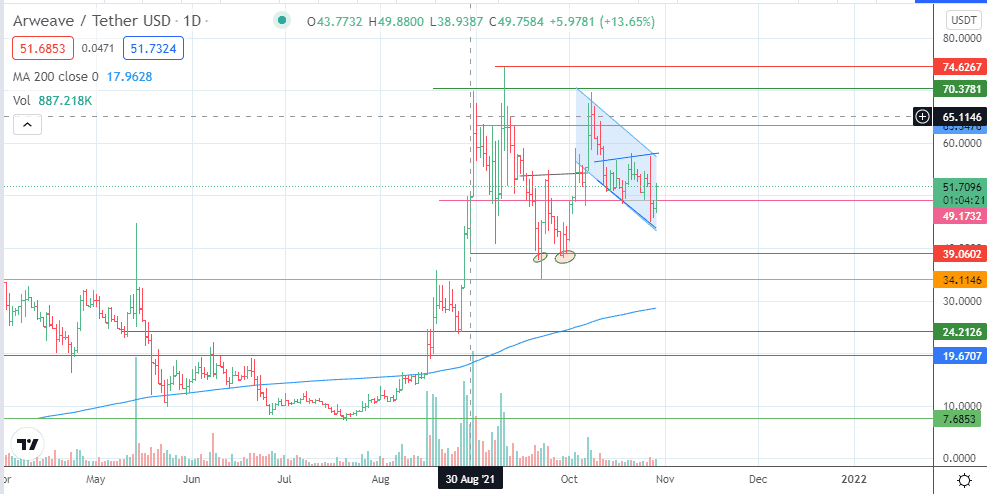 Follow Eno on Twitter.