The APENFT price is consolidating below significant trend line resistance, indicating an explosive move may be on the horizon.
APENFT (NFT) has halved in value over the last month. At the current price of $0.000002944, the project's stands at $813.5 million, ranking it the 101st most-valuable cryptocurrency behind Revain. APENFT, like SPAC's, is an investment vehicle set up to acquire assets. In this case, the assets are Non-Fungible Tokens (NFT) like Bored Ape Yacht Club (BAYC).
The NFT market has seen several booms and Bust this year alone, and as a result, the APENFT price has been highly volatile. During the summer, the NFT token surged 400% to a record $0.000003085 but has reversed most of the gains since. Subsequently, the price has broken below significant trend support, hampering its recovery.
NFT Price Analysis
The NFT/USDT daily chart shows trend line resistance caps the NFT token at $0.000003160. In my opinion, if NFT remains below the trend, it's vulnerable down to $0.00001474 (July low), around 50% below the current price. On the other hand, successful clearance of the trend could trigger a 40% rally to $0.000004547.
Currently, the trend is the dominant theme, and therefore the immediate outlook is bearish. However, the view flips to bullish above $0.000003160.
APENFT Price Chart (Daily)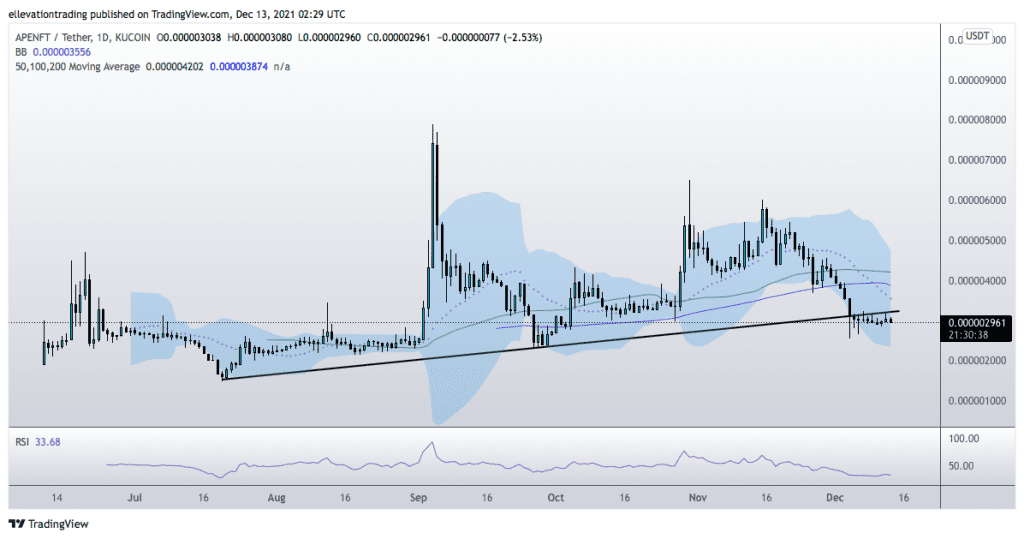 For more market insights, follow Elliott on Twitter.