The AMP share price looks set to make a run that will aim for new record highs, as analysts' consensus is for a price target as high as 317 in the medium term.
A CNN Money report says that eight analysts have provided a BUY stock rating, with a median price outlook of $295 for the next few months. The recent ratings indicate that the high and low price points lie at $317 and $265, respectively. This median price outlook leaves the AMP share price with room for additional upside.
Ameriprise Financial had reported Q2 adjusted earnings of $5.27 previously, which was slightly above estimates, with a revenue of $3.42 billion against a consensus of $2.71 billion.
The company has launched a series of investment products in 2021, which have raised its investment profile and led to a 50 YTD increase in its share price.
AMP Share Price Outlook
The AMP share price outlook indicates that bulls can target the 273.68 resistance level, having cleared the 266.85 price support. 278.17 becomes a new target if the advance continues beyond 273.68, after which new record highs will form.
On the other hand, the bears would be looking for a decline below 266.85 for 260.40 to come into the picture. Additional downside targets are found at 251.42 and 244.78. A further reduction in the stock price will allow the bears to attain 236.19 (18 June/19 July lows).
AMP Share Price Chart (Daily)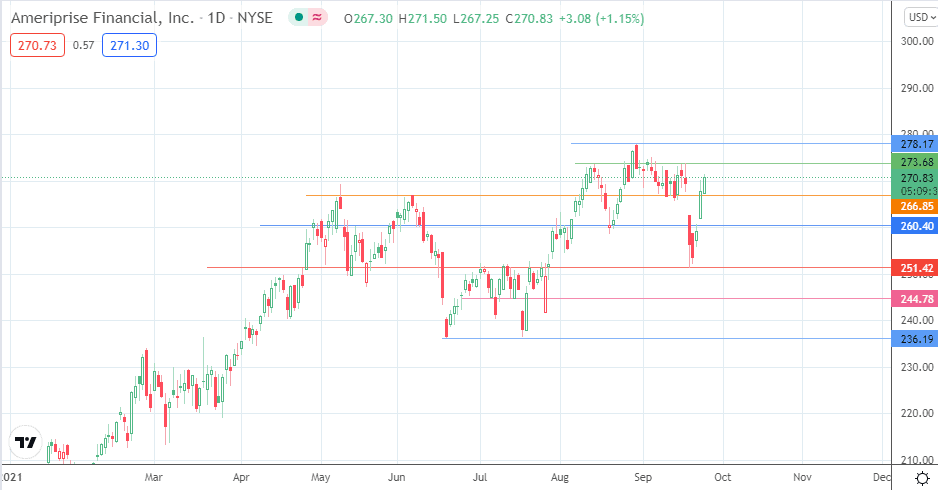 Follow Eno on Twitter.