Recent optimism around the AMGO share price forecasts appears to have waned following the failure of the bulls to extend the recovery above the 5.455 resistance mark. The stock had gained 12.5% on Friday as the bulls tried to force an extension of the advance that followed the decision of a UK High Court to approve a Call of Schemes meeting requested by the company with its creditors.
Recall that in the last update on this stock, the UK lending regulator had expressed scepticism about the company's ability to meet its creditors' obligations, even after approving the firm to resume its lending operations.
The 12-month price target provided by institutional analysts sees the stock hitting 4.035p. This gives room for a marginal downside move over the next 12 months. The next earnings report is expected on 31 May 2022. The company's earnings have seen a systematic decline over the last five years, dropping 71.2% annually. The stock is currently up 6.32% after the bears closed off some of the upside gaps with which the stock started the day.
AMGO Share Price Forecast
The intraday decline has found support at the 4.330 price mark. This support level is formed by the cluster of the lows of recent price action in the last two weeks. This support forms the lower border of the descending triangle.
A breakdown of this support level completes the pattern and opens the door for a measured move that targets 2.690. This measured move must degrade the support at 2.460 (previous highs of late February 2022) to make it to the completion point at 2.690 (25 February to 3 March lows). A continuation of the decline targets 2.015 (25 January low). 
On the other hand, if the bulls extend the intraday rejection at the 4.330 support and force a break of the 5.100 resistance (17 December 2021 low in role reversal), the 5.455 resistance enters as the immediate target the north. The bulls must uncap this barrier to extend the advance towards 6.485 (13 December 2021 and 18 January 2022 highs). This move invalidates the descending triangle. The 7.000 psychological barrier and the 8.415 resistance level (30 November 2021 and 15 March 2022 highs) cap off the short-term upside targets.
AMGO: Daily Chart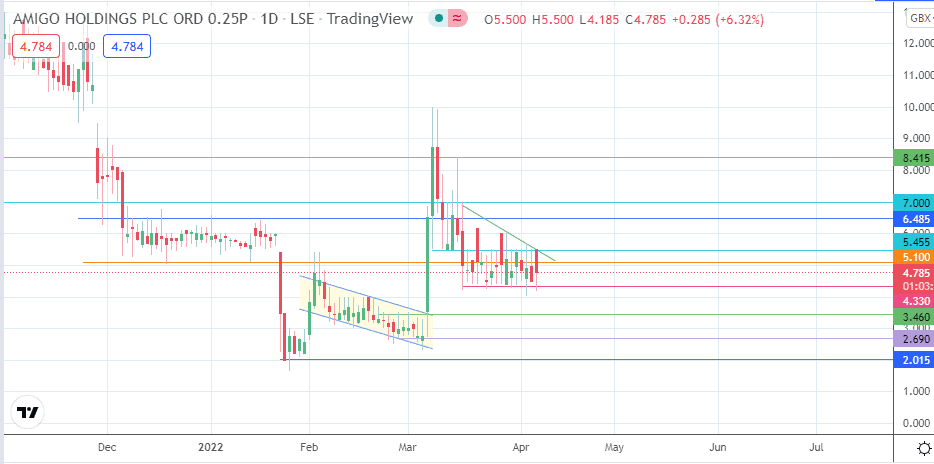 Follow Eno on Twitter.