AMC stock suffered a severe setback after production delays pushed back the release dates of several upcoming superhero sequels. AMC Entertainment (NYSE: AMC) ended Monday marginally higher at $36.83 (+0.63%), paring the five-day loss to -16.3%. AMC has lost significant trend line support despite the modest bounce, suggesting that the price will fall in the near term.
Entertainment giant Disney (NYSE: DIS) revealed they are postponing the release of the upcoming Black Panther, Thor, and Indiana Jones movies due to production issues. The films were expected to be some of 2022's biggest draws and a much-needed lifeline for struggling theatres. As a result, optimism has started to fade, taking the price lower with it. However, as the price-performance in 2021 tells us, shorting AMC is a hazardous sport. And on that basis, it may be too early to write off the hugely popular meme-stocks chances of recovering.
Technical Analysis
AMC stock has been trading in a narrowing symmetrical triangle pattern for almost six months. However, the price finally broke down through the lower edge of the pattern at $37.80 on Friday. As long as AMC remains below the former support (now resistance), the downside should prevail. A logical target to the south is the psychological and horizontal support at $30.00, whereas an exaggerated sell-off could force a test of the 200-Day Moving Average (DMA) at $26.80.
On the other hand, AMC could do what AMC does best and burn the shorts. If the price recovers trend resistance, it should extend to the 100 DMA at $42.80. Furthermore, successful clearance of the 100-DMA could lead to a break of trend resistance at $44.50. In that event, $50 is a viable target. On balance, the bearish argument carries more weight. Therefore, I am bearish in the near term with a $30 price target. However, this thesis becomes invalid if AMC closes above the trendline, now at $38.50.
AMC Stock Price Chart (daily)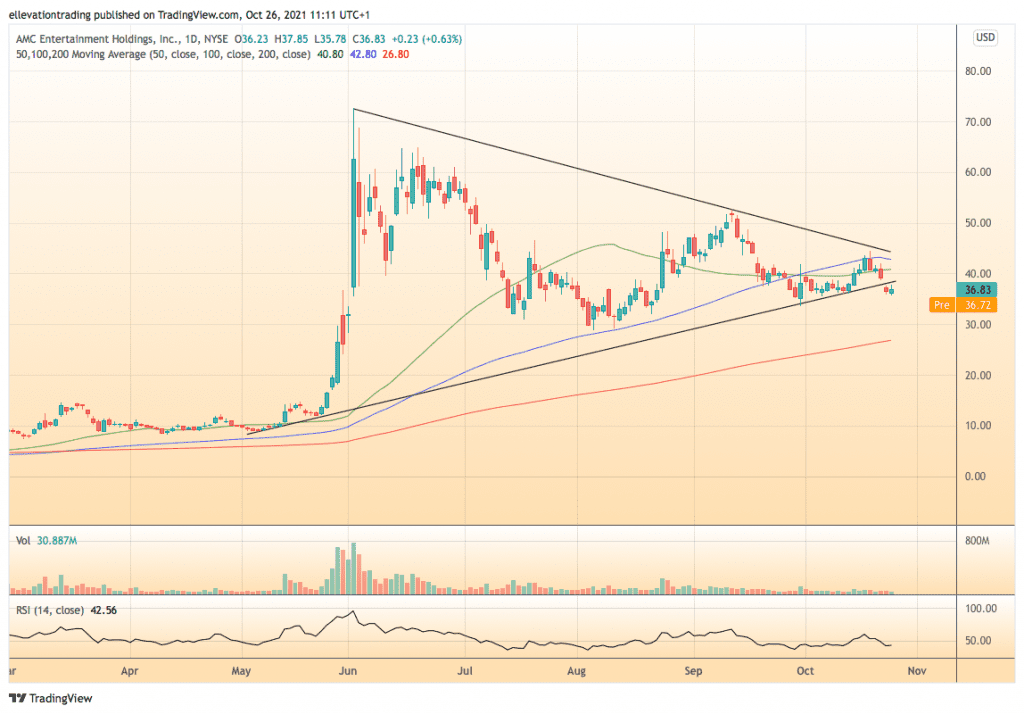 For more market insights, follow Elliott on Twitter.