It has been a mixed grill for WallStreetBet stocks in premarket trading, with the AMC Entertainment Holdings Inc's stock being one of those that appears set for an opening in the red. Any bullish AMC stock price forecasts need to see some strong action from the bulls on the day if the stock is to avoid a 6th consecutive day of losses. The stock had started the week on a negative note, closing 0.04% lower.
Volatility in meme stocks increased last week after GameStop was mentioned as seeking approval to undergo a stock split. However, AMC Entertainment did not get the better end of the deal from such volatility, as traders rather took profits from the recent gains that followed the break of the rectangle pattern.
The company is nearing its earnings release date. Analysts expect the stock to lose 42 cents per share and revenues of $4.77 billion. The AMC stock price forecast for the day indicates that the stock would experience a lower open when the market opens for trading in a few minutes. 
AMC Stock Price Forecast
The AMC stock price forecast indicates that the next test point for the bears would be at the 21.03 support level. This is the previous ceiling for the rectangle pattern that resolved upward. The upside resolution of the pattern turns that price mark from a resistance to a support. If the bears can undermine this support level, we could see a decline that targets the previous pattern floor at 14.81.
Additional price targets to the south are seen at 11.96 and 8.35, where the multi-month lows last seen on 21 May 2021 and 13 April 2021 are located. On the flip side, the bulls need to re-establish a bounce at the 21.03 support to continue the recovery trend.
This recovery must take out the barriers at 25.36 (15 December 2021 high and 5 January 2022 high), along with the 29.44 resistance (31 December 2021 and 30 March 2022 highs) to become a viable recovery move. If the price activity advances beyond 34.54, we could see a push towards 38.46 and potentially 43.08 (20 September 2021 and 22 November 2021 highs). 
AMC: Daily Chart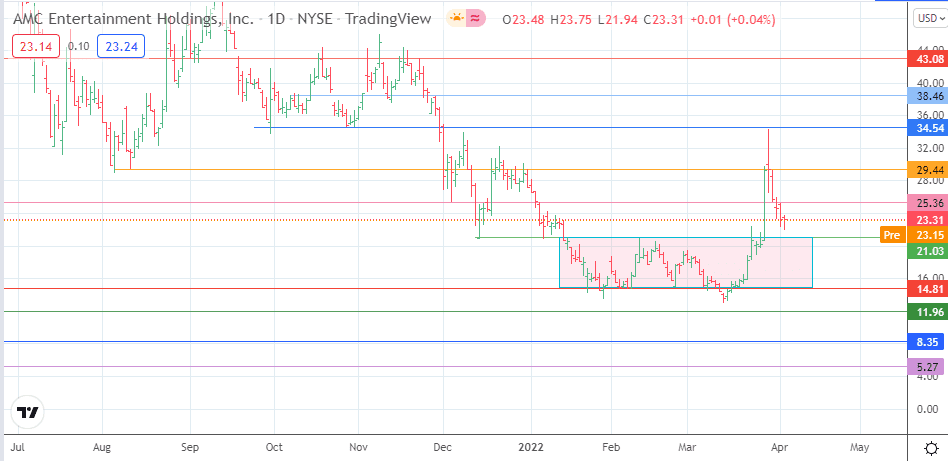 Follow Eno on Twitter.