It appears the meme stock party for AMC Entertainment is well and truly over, as AMC stock predictions are pointing firmly to the downside. The AMC stock price opened lower this Wednesday and is down 3.10% as of writing. This downward trajectory for the day has put AMC firmly on course for a third straight day of losses.
Since hitting a peak of $72.62 on 2 June 2021, the AMC stock price has plummeted dramatically. It now trades at about a fifth of its June highs, and the bottom may not be in sight yet. An attempt to recover from the 8 February 2022 low at $14.81 was truncated at the $21.03 resistance level. Strong showings at the box office by its latest screening, Uncharted from Sony Entertainment's stables, have not helped. Tuesday's incursion into Ukrainian separatist regions set a bad tone for the US markets, with AMC falling nearly 8% on the day.
AMC Stock Prediction from Institutional Analysts
Seven institutional analysts have given the stock an "underperform" rating, with an average price target of 10.45. The stock currently sits at 15.95, which provides an AMC stock prediction that indicates the potential for a drop of 34.4%.  You can check our long-term analysis here AMC Stock Forecast For 2022, 2025, And 2030: What Should You Do?
The company's latest earning call holds on 1 March. Analysts predict a loss per share of $0.26, and revenues of $1.09 billion. If the earnings figures are worse than expected, we could see the bearish AMC stock predictions of the seven institutional analysts. Better-than-expected earnings numbers may allow the stock some reprieve.
AMC Stock Price Outlook
Tuesday's decline allowed for the violation of the 17.19 support. With this breakdown, 14.81 appears to be the next target in line. A further price deterioration that takes out this support makes a case for 11.96 to enter the picture as an additional downside target.
On the flip side, a recovery could follow a bounce on 14.81. This would target the 17.19 resistance before 21.03 and 25.36 resistance barriers enter the picture as additional targets to the north. It is also possible that any rallies could make it more attractive for sellers to re-enter, depending on the earnings numbers that hit the market in a week.
AMC: Daily Chart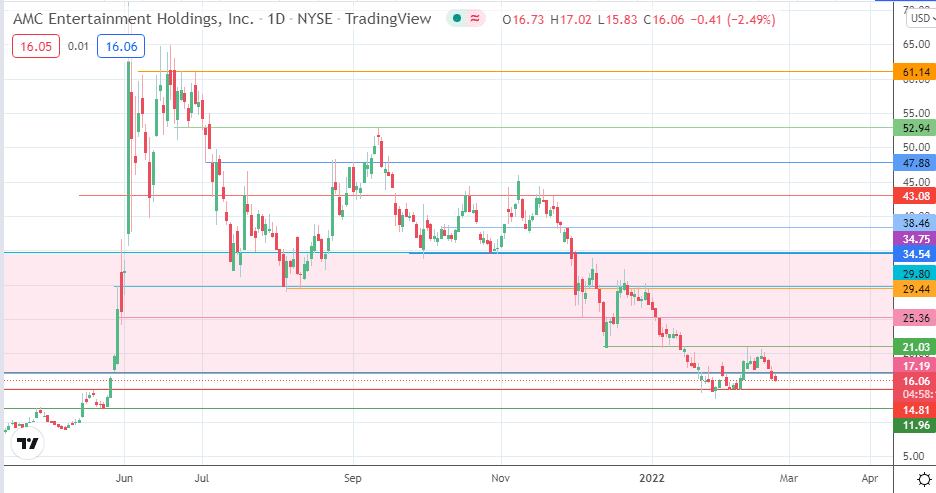 Follow Eno on Twitter.