AMC Stock is up 45% in the last week following the record-breaking Spider-man release. However, investors have set their sights much higher.
AMC Entertainment Holdings, Inc (NYSE: AMC) is on course for its strongest quarter since the start of the covid pandemic, fuelled by the success of Marvels latest blockbuster. 'Spider-man: No Way Home' set the record for the highest-grossing opening weekend in the covid era and the third-best ever.
The web-slingers pulling power has helped AMC add almost $10 to its share price and pushed the stock back into a 'bull market'. Furthermore, if the strength continues, a mass of newly-opened call options positions could have dealers scrambling to buy stock, creating another gamma-squeeze.
Bullish Options Bets Grow

A considerable number of upside call options expiring on January 21st 2022, were purchased in the last two days, suggesting that retail traders are again hoping to squeeze the AMC shorts. Incredibly, the Open Interest (OI) for the highest-listed strike price of $145.00 increased by a hefty 3,820 on Monday, to 156,463.
Of course, the odds that AMC will be above $145 come expiry are slim. However, OI grew in almost every upside strike, increasing the odds of a sustained stock grab. So let's look at some potential triggers for a short-covering rally.
Technical Analysis
The daily chart shows AMC stock is approaching the 200-Day Moving at $32.25. A close above the long-term indicator could spur an extension towards the 100-DMA at $37.77, sitting just below trend resistance at $38.50. Furthermore, a finish above the trend could trigger an exaggerated melt-up.
However, the long-term trend is lower, and until that changes, I remain on the sidelines and unconvinced. Although considering the past performance of AMC, I would not bet against a short-squeeze early next year.
AMC Stock Price Chart (Daily)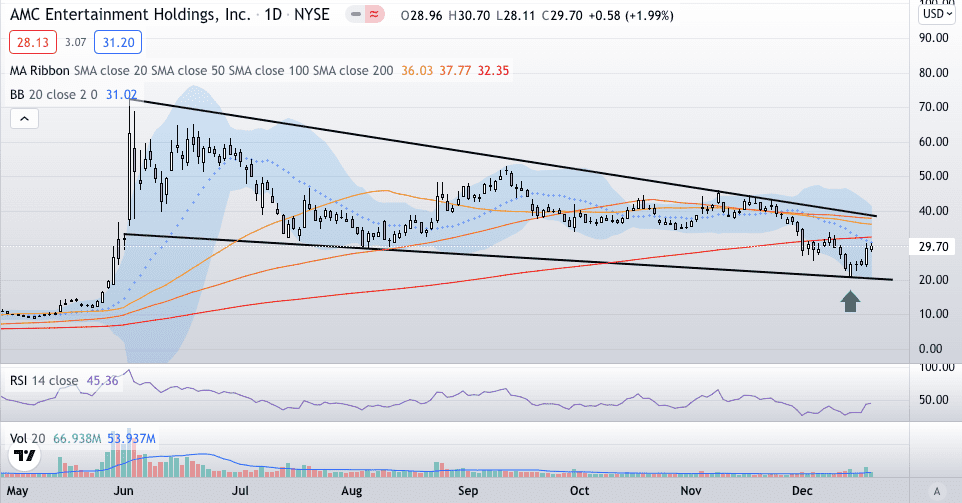 For more market insights, follow Elliott on Twitter.