Alphabet and Meta Platforms have has a tough year as business conditions change and ad spending fall. Meta Platforms stock price has been bruised as it crashed by over 60% in 2022. Similarly, Google stock price plunged by more than 30%. In this Alphabet vs Meta analysis, I will explain why Google has a better upside than Meta in 2023.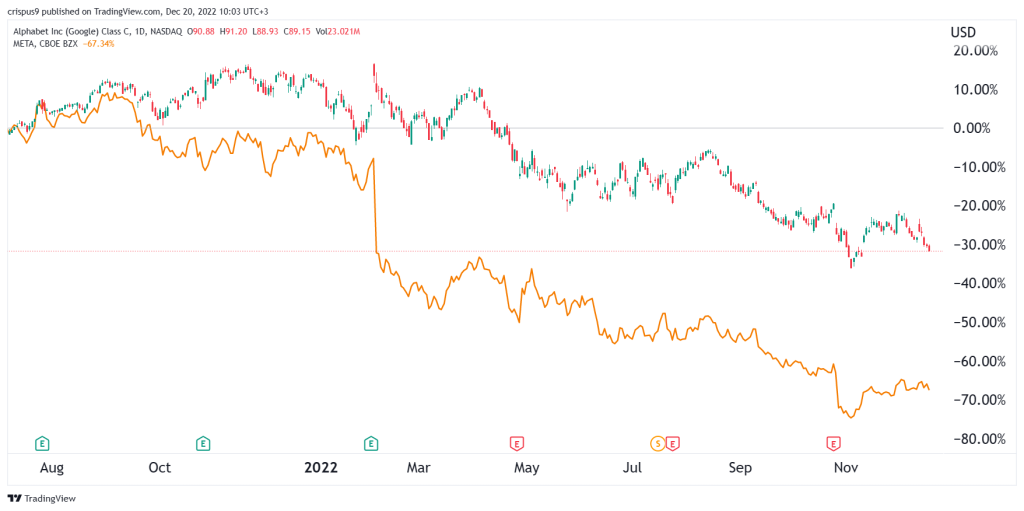 Alphabet vs Meta Platforms
Meta Platforms and Alphabet make most of their money through advertising. Their ad businesses are significantly different. On the one hand, Alphabet serves display ads on YouTube and search on its search engine. Most importantly, Google owns Android, which is the biggest mobile operating system in the world.
Meta Platforms, on the other hand, runs advertisements on its social media platforms like Instagram and Facebook. Since it does not own its operating system, the company is at the mercy of Alphabet and Apple.
At the same time, Meta Platforms operates in the social media industry, which is very easy to disrupt. In the past few years, we have seen the company lose market share to social media companies like TikTok and even Snap. As a result, advertisers have fleed Facebook and its family of apps. It has also struggled to monetize Whatsapp.
Alphabet, on the other hand, is hard to disrupt. It faces no meaningful competition in search engine marketing while YouTube has no major competitor. It would take vast resources to disrupt YouTube in the video industry.
Further, Alphabet has a more diversified business. Its cloud business has a small but significant market share in the industry. As a result, the share of the company's ad revenue is relatively smaller than that of Meta Platforms.
Meta's metaverse is failing
Another reason why the Alphabet stock price is better than Meta is that the latter is investing in the metaverse. In a report this week, Alphabet said that most of its surplus funds will go toward the metaverse. However, a closer look shows that the metaverse is failing. For example, in the crypto industry, metaverse platforms like Decentraland and Sandbox are not succeeded.
Similarly, Meta's metaverse is struggling, with only a small number of active users. Analysts question whether this metaverse will become a success in the future. Also, it will take a long time before it starts generating meaningful revenue and profits.
Meta faces other challenges. For example, many young people are no longer spending time in its platforms like Facebook and Instagram.
Therefore, I believe that Alphabet stock price has more upside than Meta. Meta Platforms is going through a transition phase and it is uncertain. Its business is struggling and it is unclear whether these investments will succeed.
Alphabet, on the other hand, is a more blue-chip company that has a long runway for growth. It is also more profitable and has a solid balance sheet than Meta Platforms.