As indicated in our previous Algorand price prediction, the price has once again faced rejection from key resistance. On Thursday, ALGO price tumbled and lost 2.9% till press time. The leading cryptocurrencies, Bitcoin and Ethereum price also showed negative price action.
After surging by almost 30% at the start of the month, AlGOUSD lost most of the gain at the end of February. The price closed the month with a minor gain of 1.2%. ALGO price is having a 2nd consecutive red week after closing last week with an 8% loss. Even after repeated attempts, the price has failed to break above the $0.28 level.
Where To Buy Algorand
As per Algorand news today, the project has hired its first Chief Financial Officer (CFO). Mathew Commons, appointed in the new role, has years of entrepreneurial experience in the blockchain industry. The latest appointment comes at a time when the Algorand ecosystem is growing at a very rapid pace.
The total locked value (TVL) has been surging since the start of the year. It has increased from $75 million at the end of 2022 to $171 million right now. Most of this TVL increase can be attributed to the increase in Algorand price as well as in the price of other locked assets.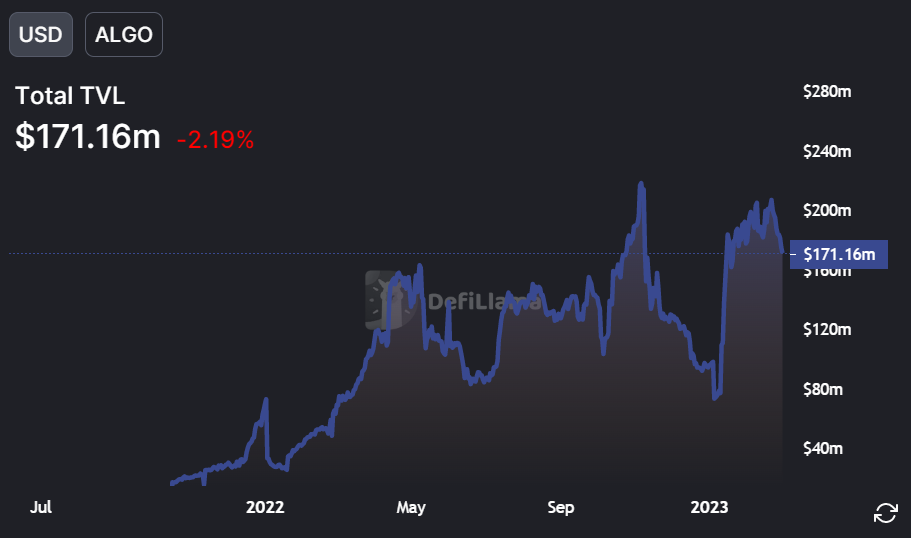 Algofi is the biggest dapp in Algorand, which has 67% of the overall TVL. Lofty, Folks Finance, Tinyman, and Pact are other major dapps on the network.
Algorand Price Technical Analysis – 1D Chart
Our technical Algorand price forecast is still the same as mentioned in our last analysis. Since then, the price has faced another rejection from the $0.28 level. The confluence of the 200-day moving average and previous support now acting as resistance has made it very strong. Nevertheless, I still expect at least another retest of this level if the price holds the $0.23 level in the coming days.
At press time, ALGO price is trading at $0.243 as the correction in cryptocurrencies deepens. On the medium timeframe, the market structure is still bullish as the price is yet to make a lower low on the Daily chart. $0.23 level is also in confluence with the 0.5 fib retracement level.