The decline of the ALGO/USDT pair has heightened bearish Algorand price predictions, Thursday's recovery move notwithstanding. The negative sentiment follows Wednesday's broad crypto market selloff, which led to a 7% decline in the Algorand price action.
The ALGO/USDT pair has recovered slightly, notching 0.87%. This is a weak attempt at recovering the nearly 14% haircut the ALGO/USDT pair suffered in the last two trading sessions. 
Despite the setback, Algorand continues to attract investors interested in jumping in early into the Metaverse. Hivemind Capital is launching the first sports racing play-to-earn game for the Metaverse as part of the new Drone Racing League (DRL). Hivemind is set to fund the project, which Playground Labs will serve as project developers.
Algorand Price Prediction
Yesterday's close below the channel's trendline has been followed by a feeble attempt at recovery, showcased as the bounce off the 1.5148 support, which failed to meet the 1.5992 resistance. The latter is where the channel's trendline meets the horizontal resistance line. This weak return move could be followed by renewed selling, targeting a breakdown of 1.5148. If this occurs, the bears would have a clear pathway towards the 1.2122 support, the site of lows last seen in September 2021.
On the flip side, an extension of the day's weak recovery move above the 1.5992 resistance barrier gives the bulls a fighting chance at targeting the 1.6971 barrier. 1.7927 and 1.9069 are additional price targets to the upside, which will only become attainable if the 1.6971 barrier gives way.
ALGO/USDT: Daily Chart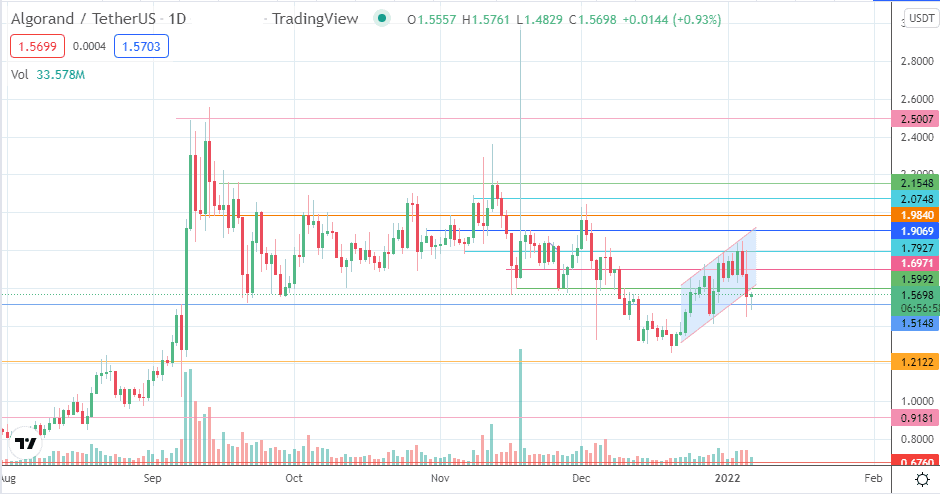 Follow Eno on Twitter.