The Algorand price has failed to join the recent altcoin melt-up and is stuck in a tight range, trading either side of $2.000. Algorand (ALGO) is trading at $1.909 (-1.27%) up 4.5% in the last 7-days, and around +450 year-to-date. ALGO's current market cap is $11.8 billion, ranking it the 20th most valuable crypto asset behind Polygon (MATIC).
In the last week, the combined value of all cryptocurrencies (excluding Bitcoin) has reached a record $1.56 Trillion. However, a small percentage of altcoins have been responsible for a large portion of the increase. Whilst, Ethereum, Solana, Polkadot and others set new all-time highs yesterday, Algorand is trading at a 26% discount from its record. However, the ALGO token is holding above significant support levels, which is encouraging. Furthermore, it wouldn't take much effort for the Algorand price to break higher and attract momentum buying.
ALGO price Analysis
The daily chart shows that ALGO has been trading in the $1.503-$2.200 range for the last seven weeks. As a result, the price is just above the 20, and 50-Day Moving Averages (DMAs) at $1.848 and $1.828. As long as this stays the case, ALGO should make a fresh attempt a breaking $2.200.
Successful clearance targets the September high of $2.600, whereas an overshoot potentially brings $3.000 into the frame. However, a close below the 50-DMA sets up an extension towards the bottom of the range.
If the Algorand price drops below $1.828 on a closing basis, a slide to $1.503 is likely. However, the 100-DMA at $1.5028 reinforces the horizontal support level. Therefore, unless the cryptocurrency market as a whole sells off hard, the $1.503 area should hold.
For now, the technicals indicate more sideways action. However, traders should monitor the price in the coming days/weeks and wait until ALGO moves towards significant support and resistance levels.
Algorand Price Chart (Daily)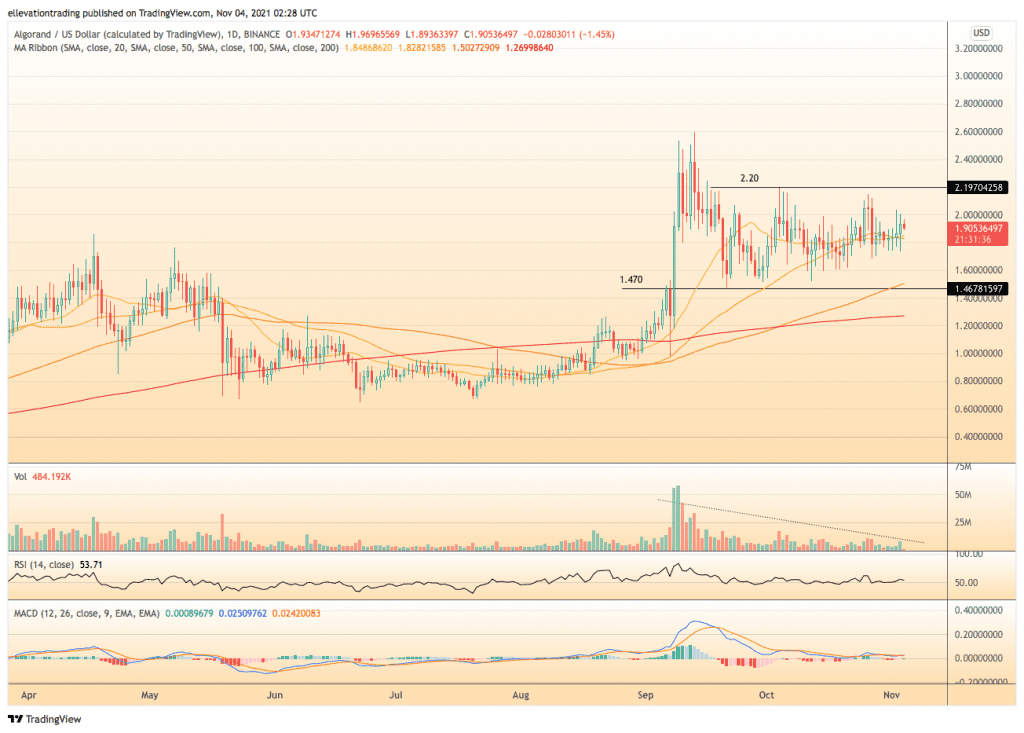 For more market insights, follow Elliott on Twitter.