Zoom Stock slipped another 3% yesterday, compounding the recent poor performance. So far this year, the video messaging firm has lost 16%. Not to mention that Zoom Video Communications Inc (NASDAQ: ZM) is more than 30% lower than this time last year and less than half the price in October.
Even though this year has proven tough for Zoom, up until last month, the stock had been in a long-term uptrend. However, that changed following a disappointing second-quarter update and forward guidance on August 30th. The Q2 earnings highlighted a worrying slow in user growth and a drop-off in revenue from the company's larger clients. This is undoubtedly due to the normalisation of work and studying habits in recent months.
The stock opened down 16% the next day and has continued to trend broadly lower since. As a result, several bearish indicators have emerged. However, it has not put off ARK investment chief Cathie Wood who has scooping us Zoom stock on the cheap. Last week, Wood purchased another $56 million of stock, citing the companies strong presence.
"We think there is a transformation taking place in the communication sector. Many people think of Zoom as nothing more than these video sessions. But it's becoming much more than that. We think it's going to, with the Zoom phone, take over the PBX system. In other words, it is going to start taking more share of the communications stack in technology. Enterprise communications is a $1.5 trillion opportunity, and we believe that Zoom is on its way to usurping the role of players like Cisco in the years ahead. It's a very big story. It is not just about video and stay-at-home or even hybrid — it's much bigger than that,"
As yet, the acquisition has done little to boost the price. Furthermore, the technicals continue to deteriorate, meaning for those who wish to follow Wood, a better entry price may be on the horizon.
ZM Price Forecast
Yesterday's $281.44 close brings the price to within a whisker of the strong support offered by the May $273.20 low and confluent highs in July and August last year. However, it is with noting that in May, the bounce came from trend line support.
The trend in question was broken during last months decline and is now offering resistance above the market at $325. Furthermore, the recent drop has forced the 50-day moving average at $336.23 below the 200-day at $343.47. This is considered an extremely bearish indicator, known as a 'death cross'.
If Zoom stock slides under the May low, this should be viewed as a negative development, leading to an extension lower to the August 2020 low at $230. Should we see a move lower, it could drag Zoom deeper into oversold territory. Currently, the Relative Strength Index shows 28.7, indicating the price is starting to get stretched on the downside. Should this decline further, it could result in a dip reversing pretty swiftly.
For now, the downside looks favourable. And that will remain the case as long as ZM is below the former trend support at $325. Should the price manage to recover this level, the outlook would improve drastically, cancelling the bearish call.
Zoom Stock Chart (daily)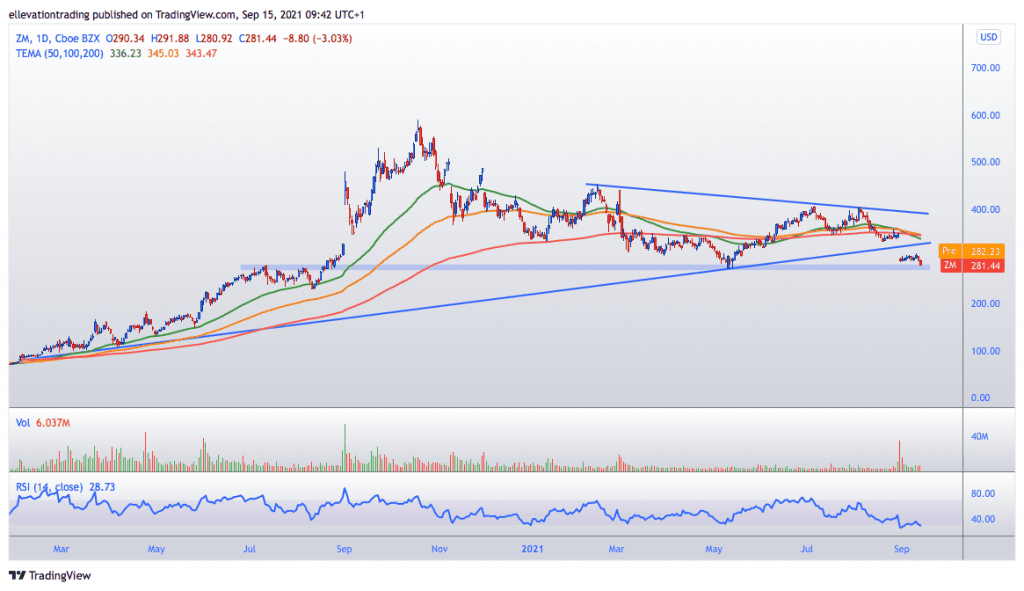 For more market insights, follow Elliott on Twitter.