Accenture stock price has struggled in 2022 as companies have shifted to cash preservation as inflation rose. The shares have collapsed by more than 30% from its highest level in 2022. Its total return in the past 12 months has been minus 20.75% meaning it has underperformed key competitors like Capgemini and IBM.
A good dividend stock?
Accenture is a quality blue-chip company with a great reputation in the IT consulting industry. In the most recent quarter, the firm's total revenue increased by 27% to $16.2 billion. This growth was helped by the remarkable performance in the communications, media, & technology divisions. Financial services, and health & financial services also rose by double-digits.
Accenture is an average dividend stock. It has a dividend yield of $1.36% and a forward yield of 1.52% and it recently boosted its payout. This dividend is supported by a payout ratio of 37.25%, meaning that the company's payouts are safe. It has had a compounded annual growth rate (CAGR) of 10.75% in the past 5 years. Of course, in terms of dividends, IBM is a much better investment because of its 4.38% yield and 23-years of consecutive growth.
Accenture valuation
Another thing about Accenture is that the company is not cheap. According to SeekingAlpha, the firm has a trailing 12-month price-to-earnings (PE) ratio of 27.58x, which is much higher than the S&P 500 average of less than 20.
Its FY1, FY2, and FY3 PE multiples are 26, 23.56, and 21.4, respectively. This means that the stock is priced for perfection. Its price-to-book ratio stands at 8,43 while the EV to EBITDA stands at 17.50. The stock is a bit overvalued than Infosys, which has had a better revenue growth in the past few quarters. A DCF calculation finds that the stock is trading at its fair value.

Accenture stock price forecast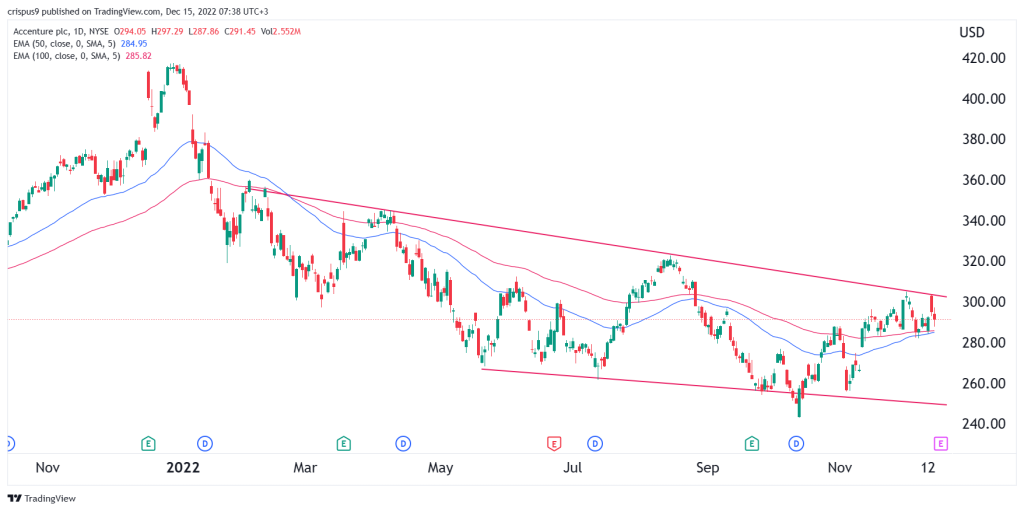 The daily chart shows that the ACN stock price has been in attempting to rebound in the past few weeks. In this period, the stock has formed a descending channel shown in red. It has also moved slightly above the 25-day and 50-day moving averages. The stock is trading at $291, which is a few points below the upper side of the descending channel.
Therefore, there are signs that the bear market has capitulated, meaning that the stock will likely continue rising in the coming months. This view will be confirmed if the stock rises above the upper side of the descending channel. If this happens, the next key resistance level to watch will be at $350.