888 (LON: 888) share price nosedived on Monday, continuing a sell-off that started in September 2021 when the stock peaked at 493p. It has been a remarkable downfall for the stock, which plunged to 74.85p on Monday. This decline is equivalent to about an 85% slide, bringing the company's market cap to just 335 million pounds. It has also underperformed the FTSE 100, FTSE 250, and other betting companies like Flutter Entertainment and Entain.
Money laundering concerns
888 Holdings operates in one of the most regulated industries in the world. It runs sports betting and gambling services, which are usually at increased scrutiny by regulators because of their attraction to money launderers and criminals. It now seems like the company's lax policies on KYC and AML are catching up with it.
On Monday, 888 fired its CEO and launched an investigation to the situation. The statement reiterated that the situation was only isolated to the Middle East, where it has some presence.
It has been a remarkable downfall for a company, which just last year spent 1.9 billion pounds to acquire William Hill's international operations. Now, the combined company is valued at a third of what it paid.
Still, it seems like the price action is an overreaction of the situation since 888 is still a major player in a growing industry. The company's revenue for the fourth quarter was £458 million, down from £470 million in the same period in 2021. This decline was because of the difficult comparables since online betting boomed during the pandemic. For the full year, the company's revenue was £1.85 billion and the company hopes to grow it to £2 billion in 2025.
888 share price forecast
The 888 Holdings stock price has been in a strong downward trend in the past few months. This decline started when the stock formed what looks like a double-top pattern at 493p in 2021. For months, the shares have gone below key support levels at 325p (May 2018 high) and 286.55p (Feb 2021 low).
The stock is now hanging at a crucial level since this price was the lowest point on March 2020 and its all-time low. Further, the shares have moved below all moving averages. Therefore, with headline risks remaining, the shares will likely continue falling as sellers target the next psychological level at 65p. The stop-loss of this trade will be at 90p.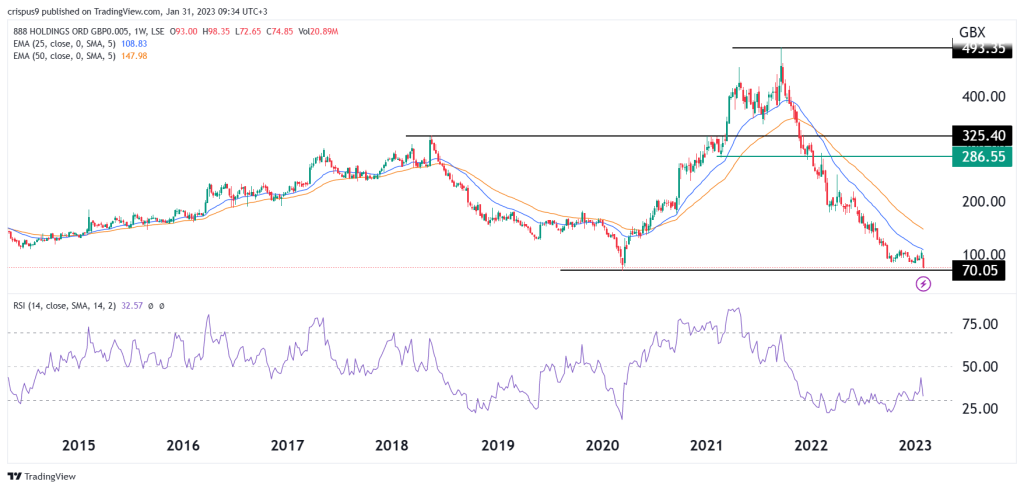 888 stock price analysis
Meanwhile, on the 4H chart, 888 shares have made a bearish breakout after the company's money laundering headache. As it dropped, the shares plunged below the support level at 82.60p, the lowest point on December 21.
By having this breakdown, the stock managed to move below the lower side of the horizontal pattern. The Bollinger Bands have widened, signaling that there is increased volatility. Therefore, the 888 Holdings stock will continue falling in the coming days.